Cake Decorating
Fundamentals
How anyone can create beautiful cakes with simple and versatile techniques for effortless cake decorating (plus how to safely stack your tiered cakes)
Learn easy-to-master decorating techniques that will enable you to create 1000s of effortlessly stunning designs. Plus no more tiered cake nightmares - we're sharing our proven techniques for safely stacking your cakes.
This skills-packed course will expand your repertoire, and build your confidence as a bespoke cake designer, equipping you with all the skills you need to start building your cake portfolio (…whether you use buttercream or fondant). 
Hi Budding Cake Designers!
Are you feeling overwhelmed, stressed out about your cake orders and wondering where to look for design inspiration?
Perhaps you're starting to feel stuck in a cake decorating rut, wondering how to create unique designs for those last-minute orders…
Or finding yourself spending days and days trying to come up with something new for your portfolio or a bespoke customer order…only to end up with complicated designs that take days and days to create, eat into your profits, and ensure you end up working for peanuts…
Maybe all your Saturdays are taken up with delivering wedding cakes, only to spend even more time nervously assembling and finishing them on site in full view of the guests and venue staff?
Have you ever wondered how professional cake designers consistently come up with fresh new designs, never undersell themselves, and never have terrible accidents with collapsed cakes?
Sound familiar?
If you're really honest it sometimes feels like making beautiful, bespoke tiered cakes is just far too stressful and really doesn't pay enough.
You feel a knot in your stomach the night before every cake delivery, wondering if the tiered masterpiece you've created will survive the delivery journey, not to mention regret that the cake was way under-priced because you were put on the spot to quote for a bespoke order without a clear idea of how to create it.
And if nothing changes? You'll probably reach breaking point, and you'll be left wondering whether to carry on with what you thought was your dream career that was supposed to give you creative and financial freedom.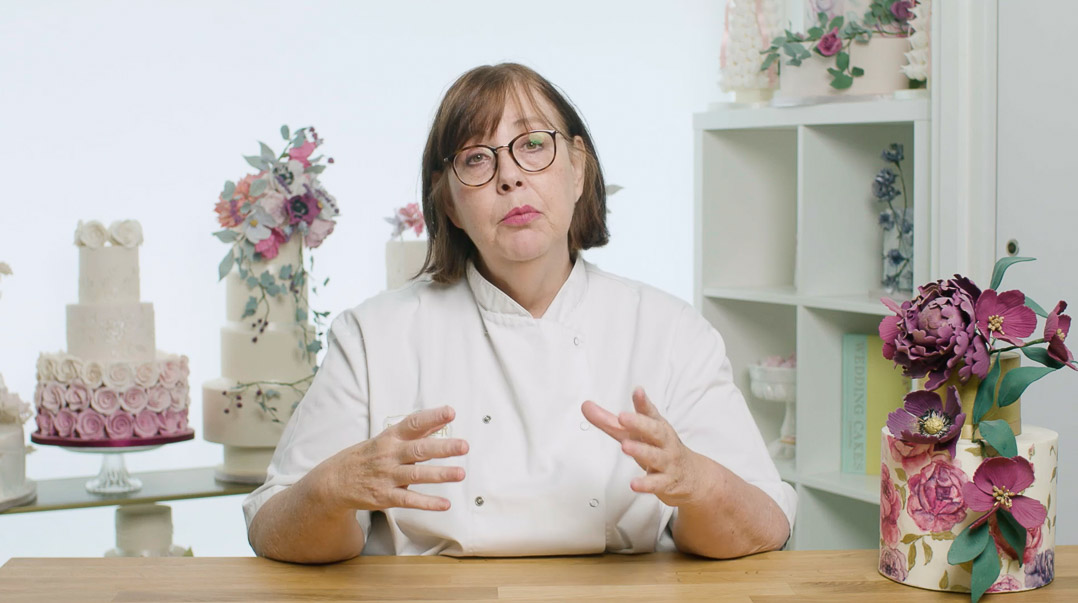 I'm Rosalind and I've felt those same feelings...
...lack of design inspiration and the pressure of not knowing whether you'll be able to meet your customer's expectations. Plus the uncertainty of knowing where to find reliable techniques for the essential cake-making steps (like stacking tiers), and for those designs I wasn't sure how to make. And don't get me started on the pre-delivery day dread!
Unsurprisingly enough, this all led to a sense of unfulfillment and burn-out.
It felt like I was trapped in a cycle of uncertainty and cake-stress that wasn't fulfilling my dreams, leaving me feeling pretty disillusioned with cake-making at times.
As Rosalind Miller Cakes grew, things changed, and as we started teaching more and more classes, we decided that it was our mission to free other cake makers from all of that stress and guesswork. We wanted to make cake-making straightforward and more enjoyable than stressful. To simplify the process and make creating a new cake design exciting rather than fear-inducing. 
So we opened Rosalind Miller Cake School, and set out on a mission to put the joy back into cake making for those that had lost it. And to teach simple, transferable techniques that can be used to make beautiful cakes but don't take endless hours to create, giving our students design freedom and enabling them to actually make money from their work. 
Today we run sold-out classes, both face-to-face at our London cake school, and online, so you can access them wherever you are in the world.


In fact 1000s of people, both complete beginners and advanced cake makers, have learned with us and benefitted from our 10+ years of experience in running an award-winning cake studio and supplying cakes to Harrods and royalty around the globe.
We teach our students everything we've learned from our professional experience as a successful cake business, so we know that the knowledge and techniques we're sharing really do work.
Many of our alumni now have their own cake businesses, and have transformed their cake-making experience and re-ignited their passion for cake design.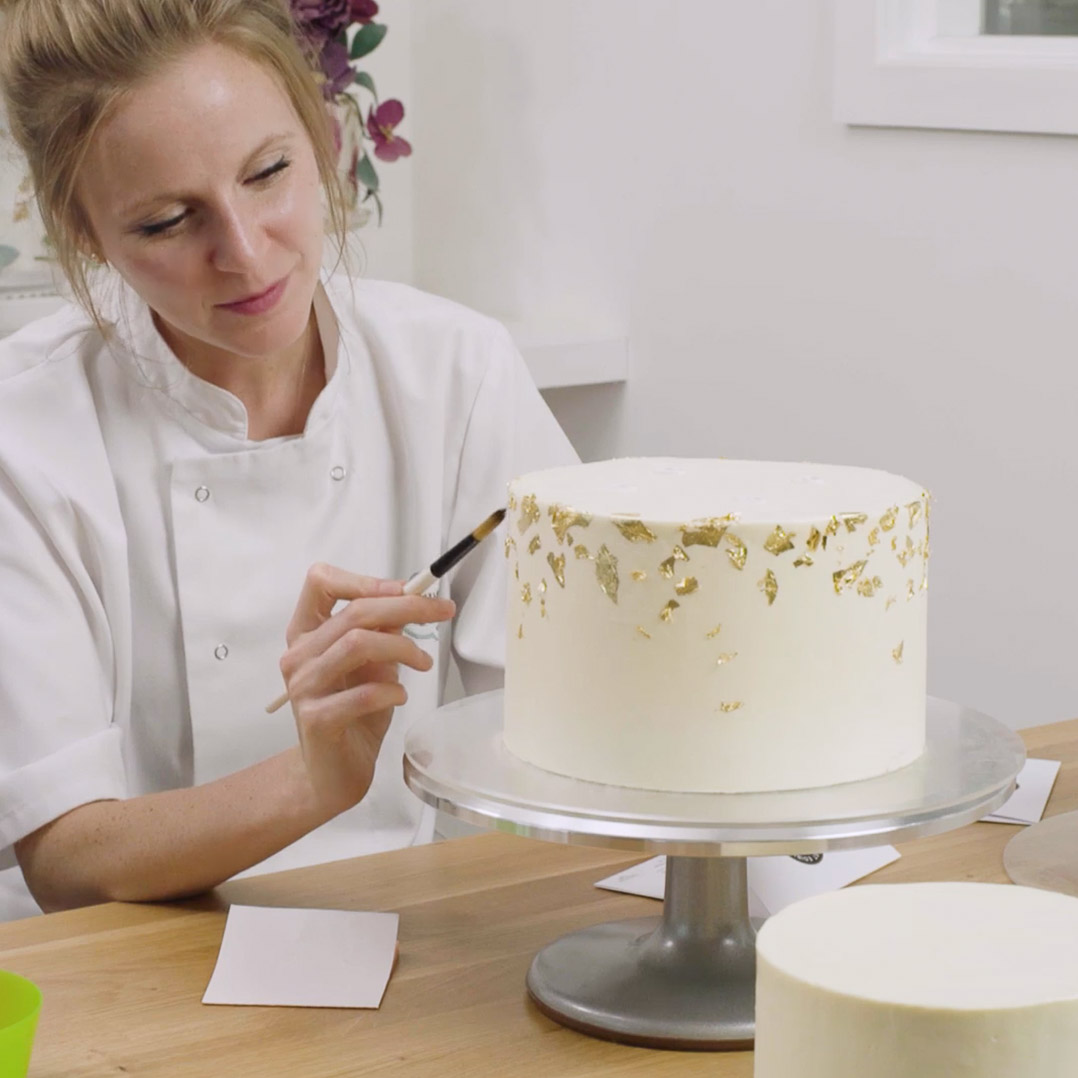 Do you want to regain your cake making confidence?
Safe in the knowledge that you can easily create on-trend, bespoke cake designs that your customers will love and don't take up all your time, enabling you to turn your passion into profit and make money from your cakes? If you want to feel that passion for cake making again, you can get our step-by-step guide breaking down the decorating and stacking techniques into easy-to-follow video tutorials, that will open those doors for you.
+ PLUS ongoing support and advice from our team.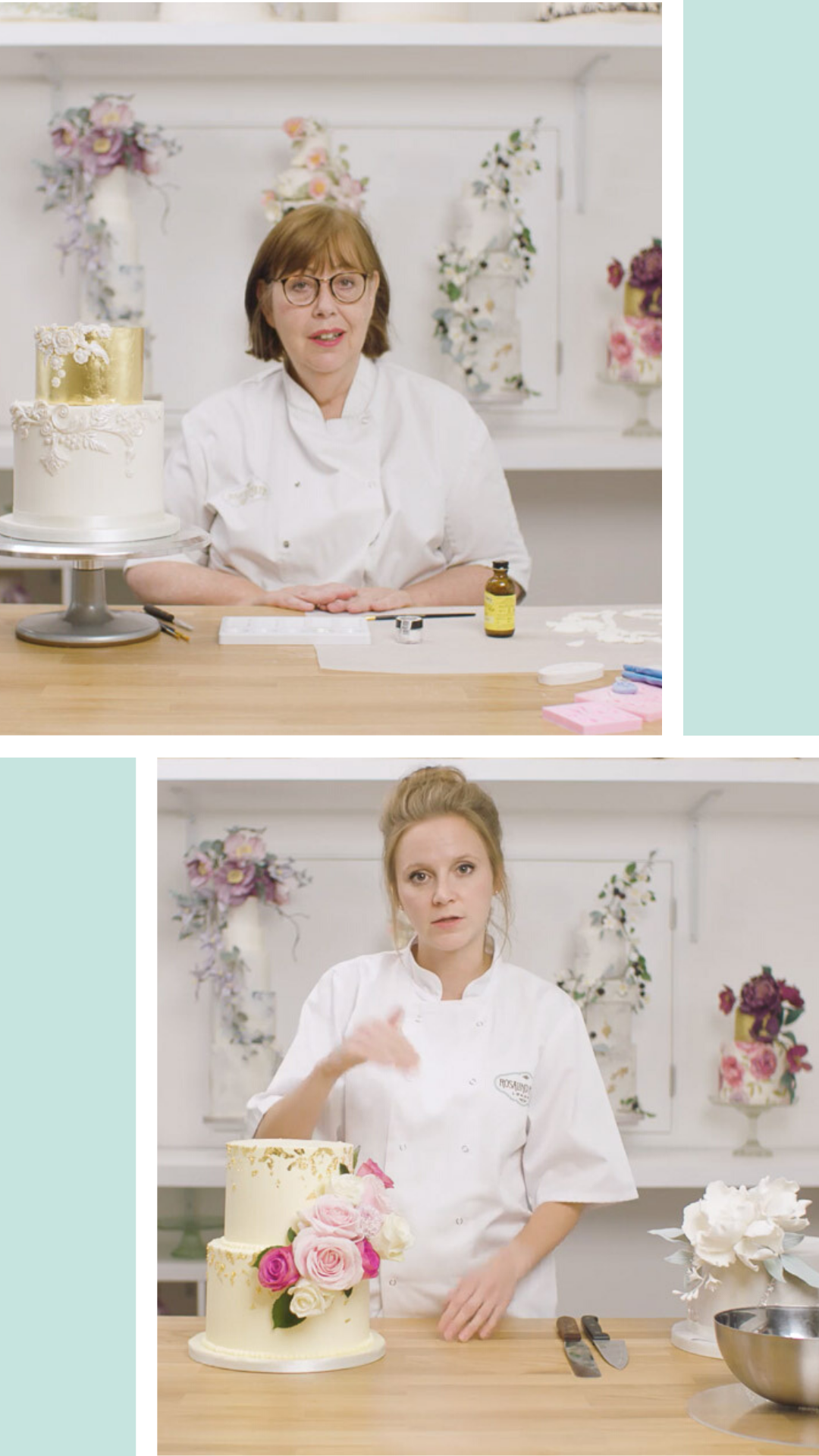 So what's inside?
How and why to dowel your cake
How to ensure your cake is stable and WON'T collapse. The most important structural step for all tiered cakes.
Using edible silver or gold leaf
Using gold and silver leaf in a multitude of different ways to add depth and flair to your cakes designs.
Stacking a tiered fondant or buttercream cake
How to successfully stack all your cakes whether you're using fondant or buttercream icing
Decorating with moulds
We show you how to use one of the least time consuming and most versatile decorative techniques for creating a huge variety of cakes.
Decorating with fresh flowers
How to decorate with and safely use fresh flowers to create beautiful designs.
Decorating with sugar flowers
How to make arrangements and create designs with sugar flowers and foliage and safely insert them to your cakes.
LIFETIME access to the course
Watch within the comfort of your own kitchen
With flexibility to fit into your busy schedule
+ BONUS LESSON!
How to cut your cake (for wedding and party portions and wedges) - our step-by-step video guide
+ BONUS VIDEO TUTORIAL!
Rosalind's beautiful decorating technique - textured abstract painting with royal icing and a palette knife (you'll receive this after purchasing)
+ Our video guide to making your own moulds
+ Our essential equipment and ingredients list worth - £79
+ Lifetime access to our Facebook support group - where Rosalind and our team are on hand to answer your questions - £££ PRICELESS!
See what Shaakira from Lulupops Indulgent Cakes had to say about her experience with Baking Fundamentals Online
Happy Students and Success Stories
"Thank you Rosalind Miller Cake School, I am a very confident baker now" - Ginesa
"My sponges are SO much better after attending this course, thank you" - JC
"An amazing weekend. I've been on so many courses and this is truly one of the best" - Rashmi
"I've taken so many courses in the cake world but none even compare to this course" - Yassmina
"I made my cake with the Swiss meringue buttercream and my husband said it was the best cake ever. It was divine. I've already had so much outstanding feedback. Thank you" - Kookie's Kakery
"Amazing! I absolutely loved everything from beginning to end. The teachers are fantastic. Dream come true!" - Maliha
"The vegan lemon and blueberry cake tasted AMAZING. My husband said it was my best cake yet" - Jemini
Available in days

days after you enroll

Welcome to Cake Decorating Fundamentals Online Masterclass
Available in days

days after you enroll

Cake Decorating Fundamentals - Online Masterclass
Available in days

days after you enroll

BONUSES!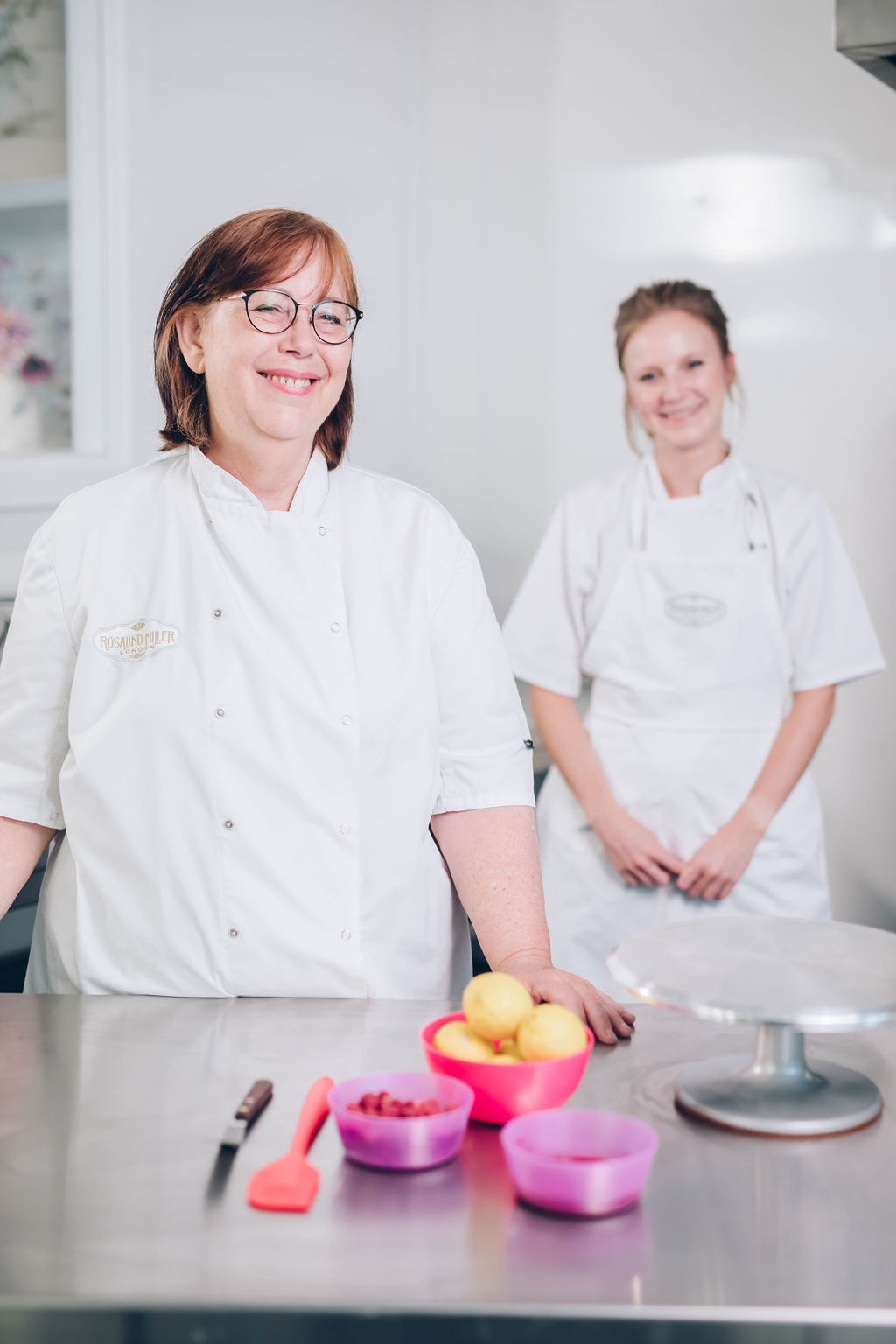 Hi, we're Rosalind and Becky!
Rosalind, Creative Director
"I founded Rosalind Miller Cakes because of my love of art and design, as well as cake of course! I was an artist and a lecturer at London's Central Saint Martin's College of Art and Design for many years before turning my hand to cake. I wanted to create cakes that were centre-pieces in their own right - in other words, edible works of art.
The taste of the cake has always been just as important as the design, and we take pride in our recipes and ingredients. My daughter and Managing Director of Rosalind Miller Cakes, Yasmine, has been vegan for 2 years, and has been instrumental in the development of our vegan recipes. In her words, they're the best vegan cakes she's ever tasted!"
Becky, Production Manager and Senior Teacher
"I've been a professional cake maker and baker since 2015 after studying Decorative Arts. I've always loved being creative and making others happy by baking treats for them. Before joining Rosalind Miller Cakes, I worked in a variety of different bakeries learning different skills, and since joining I discovered my passion for teaching. Unsurprisingly I have a HUGE sweet tooth (definitely a job requirement), and fun fact, I'm definitely a buttercream gal (although since working here fondant icing and I are now good pals!)"


Class Format & Requirements:
Step-by step video tutorials taught by our own senior cake decorating team with an introduction from Rosalind

Videos will be available to pause, rewind and rewatch unlimited times, at any time.

Supporting PDFs with everything clearly laid out so you don't have to worry about taking notes or missing anything

Recipes and lists of all the tools and equipment you need

Lifetime access

Start anytime

Access anywhere in the world

Return and replay again and agai

n

Please note, a full equipment and ingredients list will be provided with the downloadable resources for the class (with links for where you can buy them).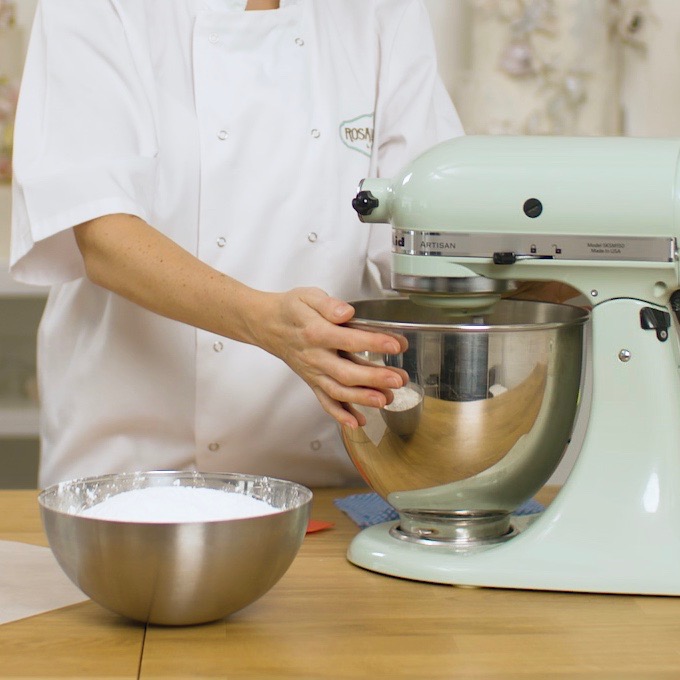 Frequently Asked Questions
Q: Can I join if I have no decorating experience?
Absolutely, we teach everything from scratch, using easy-to-follow and versatile decorating techniques that allow you to create 1000s of different designs.
Q: What else do I need to start the class?
We provide a full list of recommended tools and ingredients when you enrol.
Q: Do I have to watch the class at a particular time/date?
No, you can watch the class at any time that suits you. There's no start time, and the class videos and downloadable resources are available from the release date until FOREVER! You have lifetime access and can watch and rewatch as many times as you need, whenever you need.
Q: Do I have to watch the lessons in order?
Each video is a lesson in itself, but we have structured the class in a specific order so we do recommend watching in the order of the class. However if you want to watch a particular class individually they are also suitable as standalone lessons.
Q: How long is the class?
The video duration for the whole class is roughly 2 hour 40 mins plus an intro to what our students can expect from Rosalind Miller Cake School Online. If you're following along as you watch you can take things at your own pace, so the class could take as long as you need!
Q: Will there be ongoing support?
Yes, we're here to support you throughout your whole journey. We've created a Facebook group for our online classes which you will have lifetime access to (you'll receive a link to this once you join the course). The group is for our community of students to support one another, share their questions, results and feedback, and most importantly, be able to ask our team anything cake related. We'll be on hand in the group to answer your questions and keep you informed and motivated.
Q: Is the course certified
Yes, at the end of completing this course you'll receive a Rosalind Miller Cake School Online certificate. We're also working on a digital badge that you'll be able to add to your website and marketing materials very soon.
Booking Conditions: Unfortunately we cannot issue a refund on any online class bookings. We reserve the right to cancel a class or course in advance of the release under certain circumstances. In the unlikely event that we have to cancel a class or course in advance of the release we will offer a full refund for the cost of the class or the course.
Contact Us: If you have any questions don't hesitate to contact is on [email protected] or +44 (0) 20 7635 5447
Learn more about Rosalind Miller Cakes and Rosalind Miller Cake School at: www.rosalindmillercakes.com