INCLUDES:
Our tried and tested recipes used in our cake studio and loved by our customers, worth £399
Our essential equipment list, recipe scaling guide and cutting guide worth £129
Plus LIFETIME access to our Facebook support group - Rosalind and our team of expert teachers and bakers are on hand to answer your questions, £££ priceless!


Welcome to Rosalind Miller Online Cake School
A sneak peek of what you'll learn...
Baking Fundamentals Online Masterclass
Course Details
Baking Fundamentals is our sell-out masterclass from our London Cake School and has been our most popular class to date. Now you can learn it all from the comfort of your own home – anytime, anywhere, with lifetime access.  
Through step-by-step videos and supporting PDFs, we will teach you how to bake and ice consistently perfect sponge cakes from scratch. 
During this comprehensive Baking Fundamentals online masterclass, you will learn all the essential skills and science of baking a perfect sponge cake every time. With our expertise, we will teach you our fool-proof techniques needed to bake, cut and fill with Swiss meringue buttercream, and cover a single tier cake. You will learn how to adapt our signature sponge cake and buttercream recipes (Swiss meringue and American) to create a variety of different flavours.
As well as learning how to bake a perfect sponge, you'll learn how to cover your cake with a smooth professional buttercream finish, and decorate with edible petals and ingredients.
The cake you make is also suitable for stacking as part of a tiered cake.
This masterclass is suitable for anyone wanting to learn how to bake, from complete beginners to keen bakers alike.
What you need: we provide a full ingredients and equipment list in the class materials, but the basics are: flour (self-raising or plain flour and baking powder), butter or baking margarine, eggs, caster sugar and icing sugar, 2 x 6" cake tins, an oven, a mixer (a stand mixer or hand mixer), and a mixing bowl.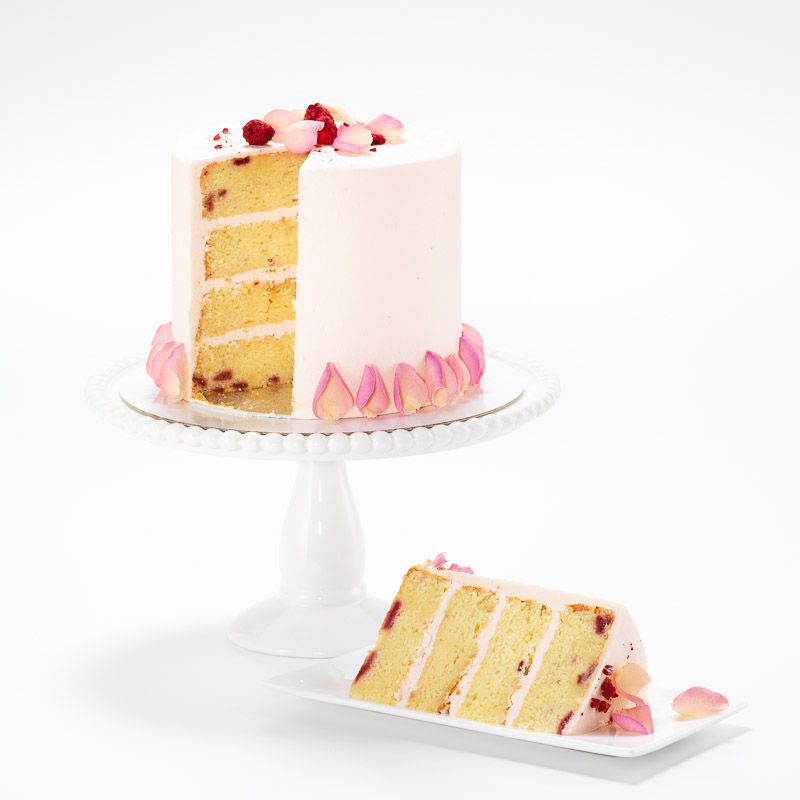 What you will learn
Our baking and buttercream icing blueprint ...
How to bake cakes that never disappoint on taste, using our tried and tested recipes, and foolproof methods and techniques (the exact same recipes, methods and techniques we use in our cake studio)
How to bake our signature Vanilla or Raspberry & Vanilla cake recipe and bake a perfectly moist sponge every time.
How to avoid common baking problems – a sinking sponge, a large dome, baking evenly all the way through, burnt edges.
How to adapt the recipe for other flavours (Raspberry & Vanilla, Chocolate, Lemon).
How to make deliciously flavoured Swiss meringue buttercream.
Layering and filling your cake with the buttercream.
How to colour and flavour American style buttercream to cover your cakes with.
Crumb coating and smooth, flawless covering with American style buttercream.
How to decorate your cake with edible petals and ingredients.
Class format:
Step-by-step video tutorials taught by our own senior cake decorating team with introduction from Rosalind.
Videos will be available to pause, rewind and rewatch unlimited times, at any time.
Supporting PDFs 

with everything clearly laid out so you don't have to worry about taking notes or missing anything 

Recipes and lists of all the tools and equipment you need

Lifetime access

Start anytime

Access anywhere in the world

Return and replay again and again
Booking Conditions: Unfortunately we cannot issue a refund on any online class bookings. We reserve the right to cancel a class or course in advance of the release under certain circumstances. In the unlikely event that we have to cancel a class or course in advance of the release we will offer a full refund for the cost of the class or the course.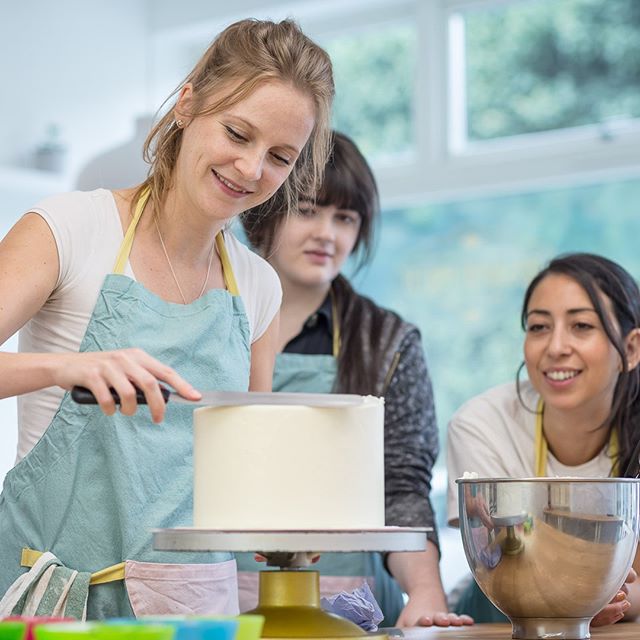 Student Testimonials
"Thank you for the Baking Fundamentals - I made my cake yesterday with the Swiss meringue buttercream and my husband said it was the best cake ever.⁣⁣ It was divine. I've already had so much outstanding feedback. Thank you x"⁣⁣ - Kookie's Kakery
"I tried the cake and it was AMAZING" - Sandeep
"Thank you so much for an amazing course." - Hannah
"My sponges are SO much better after attending this course, thank you x" - JC
"I had less than 24 hours to bake a trial run for a girls luncheon. It was a chocolate cake using the recipe from the class and a filling of swiss meringue vanilla and raspberry buttercream. Thank you Rosalind and Becky I really gained from this class and look forward to more. Many compliments on the taste and texture of the cake and the much loved swiss meringue butter cream which was a huge hit despite it being turned out in a rush. xx" - Diane
Contact Us: If you have any questions don't hesitate to contact is on [email protected] or +44 (0) 20 7635 5447